WATER UTILITY
Toowoomba Water
Location
Toowoomba, Australia
Solutions
Be.Utility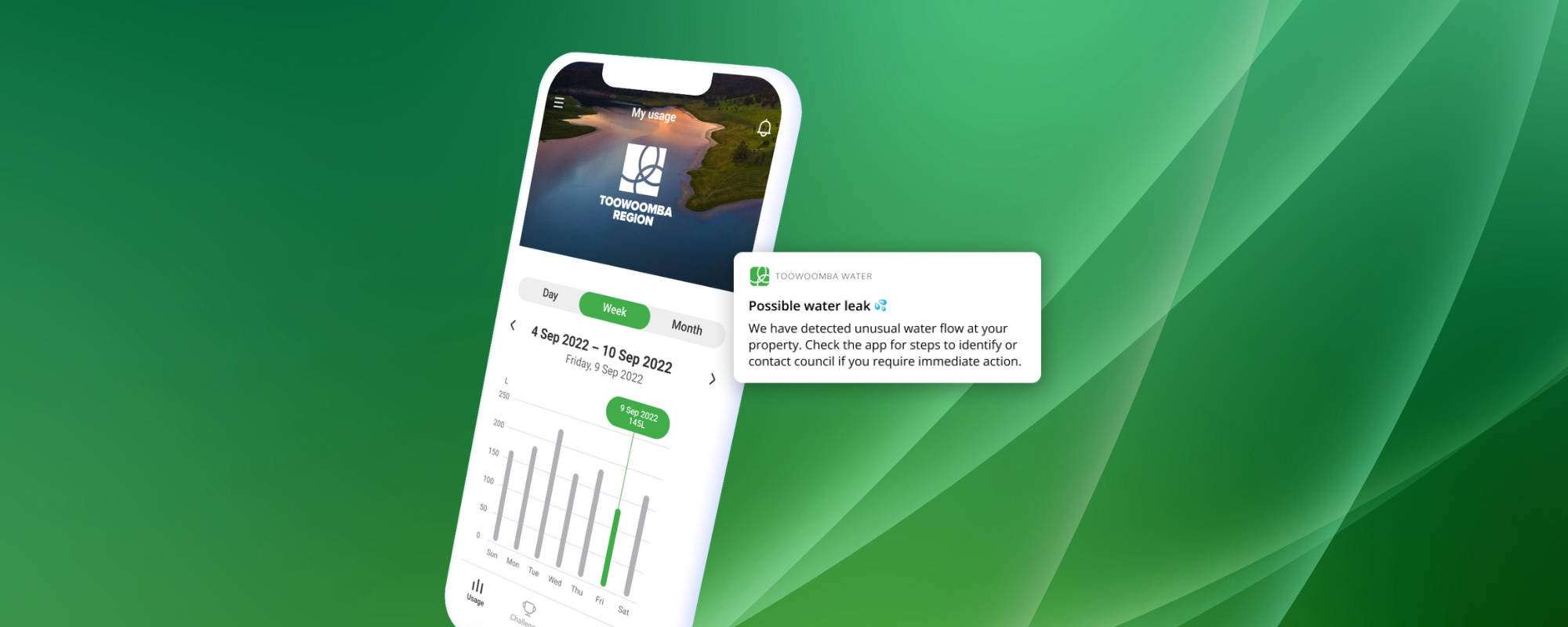 Landmark digital water meter and IoT project harnesses GreenBe's purpose built digital customer engagement platform for residential water customers.
The Toowoomba Region smart water meter project has been described as a landmark project, delivering a region-wide network of customer water meters that remotely collect data and automatically deliver real-time water usage, as well as early leak detection for residents in the Toowoomba Region.
The large-scale Advanced Metering Infrastructure (AMI) solution will help to reduce the amount of leakage and non-revenue water for Council. By transitioning to a smart IoT solution, Toowoomba Region will have greater operational transparency, increase water usage measuring accuracy, and capabilities to identify when and where leaks are happening, and measure pressure within the pipe network.
GreenBe, in partnership with a consortium led by Optus, including Iota, ETS Electrical Services and M2M is giving residents daily visibility on how much water they are using and control over their water usage. Installation commenced in late 2022, at scale, the implementation will include over 68,000 smart water meters across Toowoomba Region.
"Using best-of-breed technology, we are delivering an end-to-end solution that can put money back into the pockets of residents while also helping to save precious water from being wasted."
– Zorawar Singh, Head of Core Product at Optus Enterprise
GreenBe deployed its Be.Utility end-customer facing WLS (White Label Solution) for Toowoomba Water customers. Council-branded, the Toowoomba Water app is available for residents with an installed smart water meter to download for their iPhone or Android smartphone from the Apple or Google Play Stores, or access via the desktop web and mobile responsive portal.

The key benefits of GreenBe's water IoT platform for Toowoomba Region customers include: 
Flexibility and control over their water usage.

Direct access to their property's

usage data

in 30-minute, hourly, daily and weekly intervals.

The ability to

track high water consumption

and potentially

avoid bill shock

.

Receive leak alerts if unusual flow is detected via sms, email or app-push notifications.

Monitor and

set personalised water reduction targets

and goals to reduce usage.

In-app access to tips and how to save water at home.
Improve water literacy and conservation knowledge with GreenBe's proprietary gamification challenge and reward engine.
Capability to self manage and access in-app real-time customer support for technical issues.

See the Toowoomba Water app features in the following video.
"The meters will provide close to real-time readings. Residents will be able to…check their usage. They will be able to review their data which will make it easier to see which activities around the property are causing high water consumption. This will help to reduce the chance of residents receiving a surprise when they get their bill. If properties have an underground leak, the meters will also help with early detection."
– Rebecca Vonhoff, Water and Waste Committee Chair Councillor at Toowoomba Regional Council

About the project
Toowoomba Regional Council is the eighth largest local government area in Queensland with an estimated population of 166,045 persons (as at 30 June 2017). Council has identified numerous benefits from implementing AMI and a customer portal for all water meters in the LGA, with the main benefits being to improve customer service and gain operational efficiencies in order to drive better value for money through reduced cost and increased service efficiencies.
GreenBe solution: Be.Utility WLS, iOS iPhone and iPad app, Android app, desktop web and mobile responsive portal
Network: Optus
System integration: Lentic API, Pathway
Delivery partners: Optus Enterprise, Iota, ETS, M2M
Learn more
Toowoomba Region website
Toowoomba Water Facebook page
Key outcomes
24%
App sign up
During the first 3-months, 24% of Toowoomba residents with an installed smart meter who received an invitation to download the app successfully registered.
6m 50s
Time in app
Users on average spend almost 7-minutes in the Toowoomba Water app accessing their water usage data and learning about water conservation.
80%
Monthly active users
Toowoomba Water app users continue to be active, with approximately 80% regularly logging in to access their data in the app and web portal.