GOVERNMENT
City of Newcastle – Lean in Newy
Location
Newcastle, Australia
Scale
8,584 citizen users
Solutions
GreenBe GOV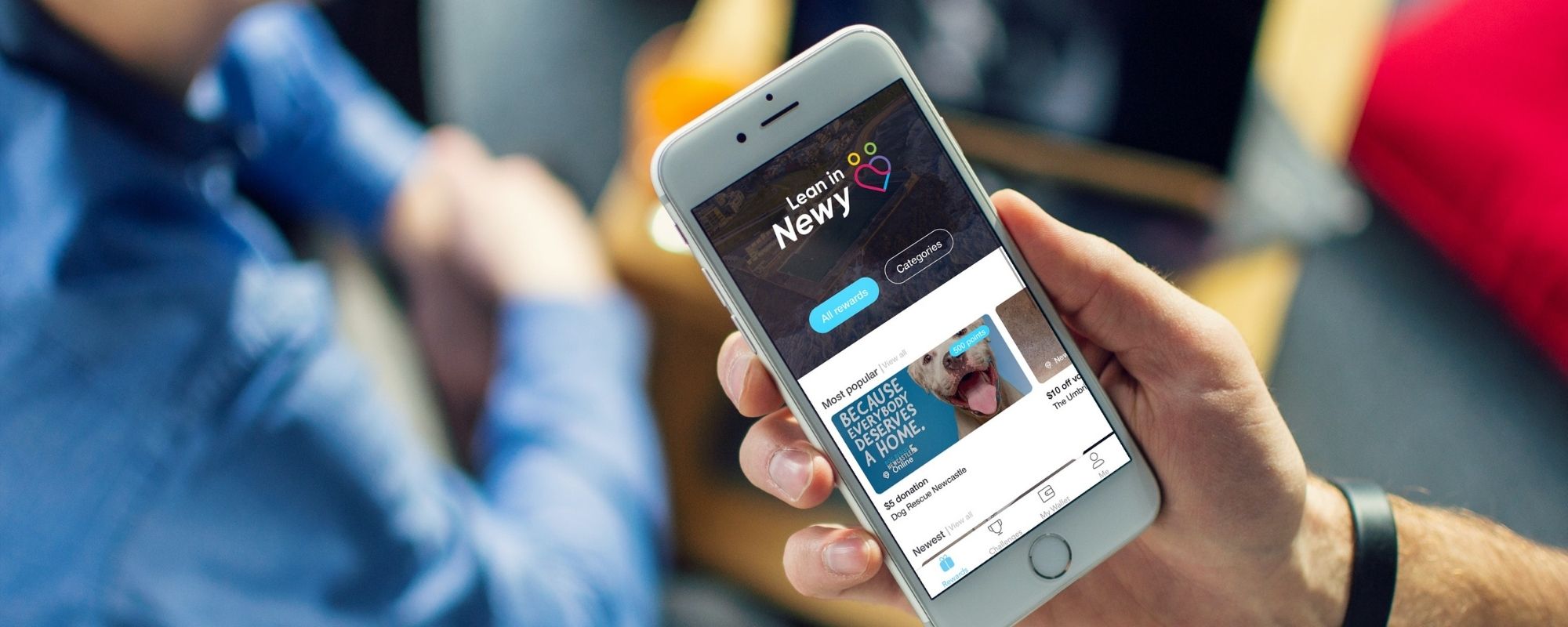 A COVID-response council initiative to support local community through a digital platform
In May 2020, GreenBe and the City of Newcastle launched the Lean in Newy platform and app as a COVID-response solution to engage and support both individuals and communities who had felt first-hand the impact of COVID-19. 
Lean in Newy grew to become a significant network of users, passionate about community-led social action, small family businesses and helping some of the most vulnerable areas of the Newcastle community. 
Created with government for residents of City of Newcastle
In response to the coronavirus pandemic, Lord Mayor Nuatali Nelmes expressed a desire for Newcastle residents to find a way to extend love and support to the areas of the community that needed it most. 
"COVID-19 has had an unprecedented effect on our community, with older people experiencing increased isolation and businesses suffering a downturn in trade, while other people have found themselves suddenly with more time on their hands

,

" she said. 
"

We have been hearing from many people in the community wanting to help but not knowing how. Lean In Newy is the answer to those asking, 'How can I help?"

said the Lord Mayor. 
As a direct response, City of Newcastle partnered with GreenBe to design and develop the Lean in Newy app. Operating as a simple and effective rewards system, residents earned points for joining challenges that involved things like participation at community events, volunteering at local charities and donating to local businesses and organisations. 
GreenBe's solution has helped City of Newcastle deliver the following: 
A custom-designed, user-friendly digital platform for the everyday user to engage with.

The onboarding of 8,500+ active users supporting their local community within just six-months of Lean in Newy's launch. 

The engagement of 166+ community volunteers who assisted local charities and businesses.

Over 68,350 challenge participations recorded by residents.

The partnership and promotion of over 16 non-for-profit organisations.

Over 190 reward offers from local businesses for active Lean in Newy users.

Contributing approx. $390,000 in local economic sales and supporting small business.
By partnering with GreenBe, City of Newcastle was provided with a brilliant platform to offer challenges that support the most vulnerable areas of the community whilst offering rewards to residents for getting involved and helping out. Not only did the app propel a shift in attitudes, but it fulfilled the desire of Newcastle residents to purposefully contribute to their community through a user-friendly and intuitive solution.
The program won the Economic Development Recovery & Resilience award at the 2022 National Economic Development Awards for Excellence. 🏆
"What an excellent concept and a great way to rally the community!

I really like the app interface and the ease with which I can find challenges! This type of app should be rolled out in all communities!"
– Lean in Newy user review
Key Outcomes
68,300+
Challenge participation
On average, users participated and engaged in 8 challenges in the form of short quizzes and surveys, event attendance and community engagement.
8,500+
Citizen users
Over 76% of citizens who downloaded Lean in Newy app and activated a household account regularly engaged with the app.
$390,000+
Local economic sales
As a result of the City of Newcastle's $95,000 local business rebate contribution, local businesses received around $390,000 in additional sales.
How governments use GreenBe